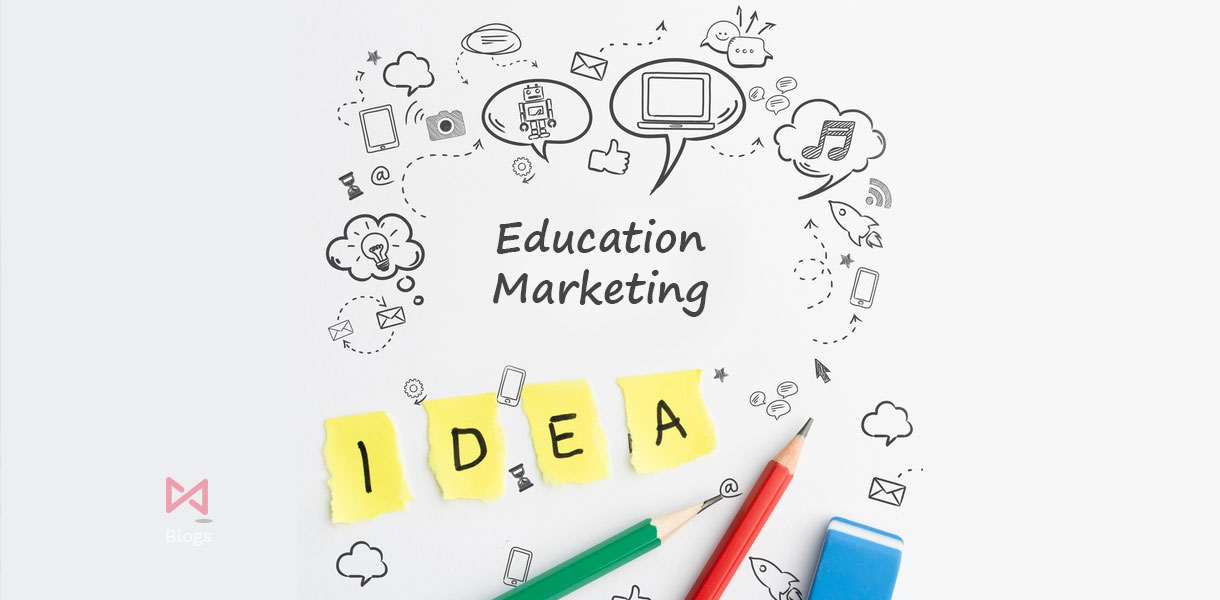 Earlier, there was a time where there was no need for marketing because products and services were very limited. The education sector is experiencing a major boom because now this industry has also taken advantage o technology advancement and started releasing educational content in form of Videos, written-content, applications, online courses, etc through their websites. The e-learning platform has been receiving huge attention as students or book-lovers now can fulfill their cravings of gaining information or pass their time using these e-learning platforms.
Education Marketing is important to promote valuable content across all the platforms so that the learners can have a huge benefit from the educational content. It is the only way to communicate your educational content with the learners so they know about you and connect, reach, and engage with your content. Education Marketing is all about those marketing activities in the education sector to educate the prospects, and build authority and establish the trust of the new learners.
Education Marketing focuses on:
•    School Marketing: Gone are those days when word-of-mouth and having a good reputation was to attract and increase enrolment for schools. There was no need for marketing. No, the millennial parents look for the best option of school for their kids. The parents of the current generation are techno-savvy and use the internet to gain information and make their choices. The schools that haven't actively participated in marketing their schools lag.
•    Higher Education Marketing: Higher education marketing is important for colleges and universities who want to elevate their brand and increase enrolment. Higher education is an important aspect of a student's education as it has a great impact on their education path. Students benefit from those colleges that have established themselves as a brand.
•    Digital Marketing for education institutions: Traditional marketing won't fulfill or drive you the exact number of learners for your institutes. Now, in this digital era, your communication should exist across all digital platforms to have a greater reach of your brand. Digital Marketing is an excellent way to market your institute cost-effectively and run target-based advertisements.
•    Promotion of apps: Some students now no longer prefer to sit in the coaching institutions. Now they prefer the educational apps that they subscribe to, stay at their home, and learn at their convenient time. Many educational apps have made their presence in the market.
Here are 5 ways to implement education-based marketing:
1.    Website or Landing Page: If you are into a school, higher educational, or run an institution, it is imperative to have a website that provides all the basic and necessary information to the users. Make your website mobile optimized so that mobile users can easily navigate. Your website is your home for your online presence.
2.    Digital Marketing: Implementing digital marketing is an important aspect of education-based marketing. Digital Marketing is a cost-effective, activities can be tracked and measured, increases interactivity, and gives a diverse market for your products & services. Digital Marketing includes various tasks that help to increase your visibility across all digital platforms. It uses advance and modern skills and techniques that are result-oriented and guarantees results.
3.    Social Media: Make sure you have made your presence across all social media platforms so that you can connect with your audience. Social Media has been an integral part of the marketing strategy. Each business has been using social media and takes the benefits that social media has been providing. Your goal as an education-based industry is to create and share meaningful and engaging content to connect with your audiences. You can also use social media to run target based ads through which you can promote your apps, online courses, etc. Give a direct link to your product or service page so that visitors reach your product page directly.
4.    Encourage your learners to leave reviews/testimonials: Users read online reviews/testimonials before paying for a product or service. Reviews have the power to influence purchasing decisions. Encourage your students to leave reviews about your courses, programs, etc. Give them a chance to share the success journey that they have achieved after availing your courses. Respond to all reviews.
5.    Video Content: Video Content is the most engaging content. Being into an education industry, you can promote your educational content through videos so that learners can know about your educational content and have the power to convince them to choose your courses or educational apps.
Plan and create a marketing strategy that matches and fulfills your objectives. You can always track and measure your results. If the results aren't satisfactory, you can make some changes in marketing strategies.
If you are looking for a marketing plan, then you can connect with us and we can help you achieve your business goals & objectives.