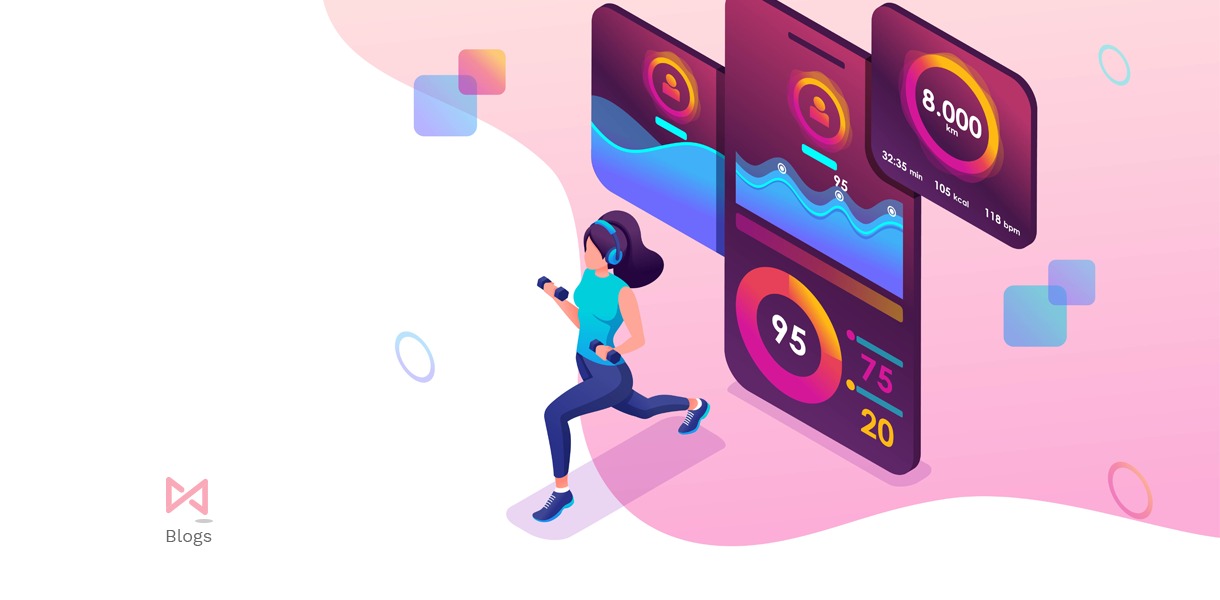 The World has been growing at a faster pace and there has been a significant improvement in the world of technology. With the invention of Smartphones, mobile applications are now at high demand because they simplify the lives of people by fulfilling their daily necessities at their fingertips.
No time for grocery shopping? Order through the online app. Found your favorite dress online at a lower price? Order online! Mood for Pizza? Order online through the app!
Each Industry from entertainment, to food, to consult a doctor; each Industry has made its presence online through mobile applications. For these techno-savvy groups, their smartphones can act as a modern solution to their problems!
Even the health & wellness have made their presence online and have started developing applications with the help of the health & fitness digital marketing strategy.
What is a Fitness App?
Modern problems need modern solutions. So a Fitness App would help the current generation to keep themselves fit, healthy, & active amidst their modern problems by providing them solutions at their fingertips!
The corporate-driven world and the competitive atmosphere has made everyone so busy that people often find it difficult to get time for themselves and work on their health & fitness. Irregular eating habits, light to no physical activities, lack of sleep are some of the major contributions that harm their body. Hence a Fitness App would act as a personal companion who would help them with some quick & healthy food, easy moves, remind them about their water intake, keep track of their calorie consumption, and their sleeping hours.
A health & fitness digital marketing agency will help you to design a Fitness App which would help to improve the lives of people. And if you are a nutritionist, dietician, or health/yoga trainer you can invest in developing an app that would address all the health problems of an individual through your application.
How to create a Fitness App?
With the help of a health and fitness digital marketing agency, you can develop your Fitness App as per your requirements. Here are a few things that you need to keep in mind while designing a Fitness App:
1. Decide the type of Fitness Application:
The first step is to decide what purpose your fitness app can fulfill for your clients or potential clients. You can have an On-demand Workout App where you provide your clients with different workout plans as per their goals for a certain price. Next, you can design a calorie-counter app that would help your clients record the food items they eat daily and provide them with a clear customized diet plan as per their goal. You need to maintain a huge database of food items to have a nutrition app. Also, you can invest in an activity tracking app where your clients can log their daily movements or exercises or workouts to keep a count on the calories burned. Moreover, you can also create an app that can have all or some of the above combinations. A health & fitness digital marketing agency can suggest will help you with the type of application.
2. User Friendly:
Your app should be free of bugs, should be user friendly with easy functionality that can be accessed by people of any age group.
3. Calorie Counter:
Your app should have a calorie counter that could track the number of calories one has consumed and calories burned by them in a day. You need to create a huge database of food items so that it would help people to count on their calories.
4. Dietary Suggestions:
Your app should help and encourage your clients to improve their eating habits and eat healthy to achieve their health goals. Your app should be designed in such a way that it can suggest your clients what to eat & when to eat as per their body weight, help them to create their personalized diet plans as per their meal preferences. Ensure that meal plans are flexible so that they have a huge option to replace a particular with another that provides them with the same nutritional value.
5. Connectivity with wearable devices:
Your app should be able to connect and sync with other fitness trackers or activity tracker devices such as fitness bands or applications like Google Fit so that your app can keep a record of your client's movement and calculate their steps or calories burnt.
6. Activity Tracker:
Your app should be able to count and track the physical activity of an individual so that the app can keep a record of the calories burnt, distance covered, and their total activity time.
7. Chat assistance:
Your app should have a feature of chat assistance with your expert dieticians or nutritionists so that they clarify their queries, have a clear understanding of their diet and workout plans, etc. With the help of a Health & Fitness digital marketing agency, you can develop an AI, Artificial Intelligence character that would be able to interact with your clients in the absence of your team.
8. Barcode/ QR Scanner:
A barcode scanner would help the users to know the calorie value of a product before they consume it and hence can keep themselves aware of what they are eating. And would that help them in achieving their fitness goal?
9. Healthy Products:
You can encourage your users to buy healthy groceries or eatables from your app that would fit their budget and kill their hunger instead of munching on junk foods and making the whole process of weight loss complicated.
You can decide what features you want to provide for free and for what features they need to upgrade or subscription to your plans. There are many more features that can be added to your app. Many fitness apps are doing quite well.
If you are looking for a Health & Fitness digital marketing agency then you can connect with us!