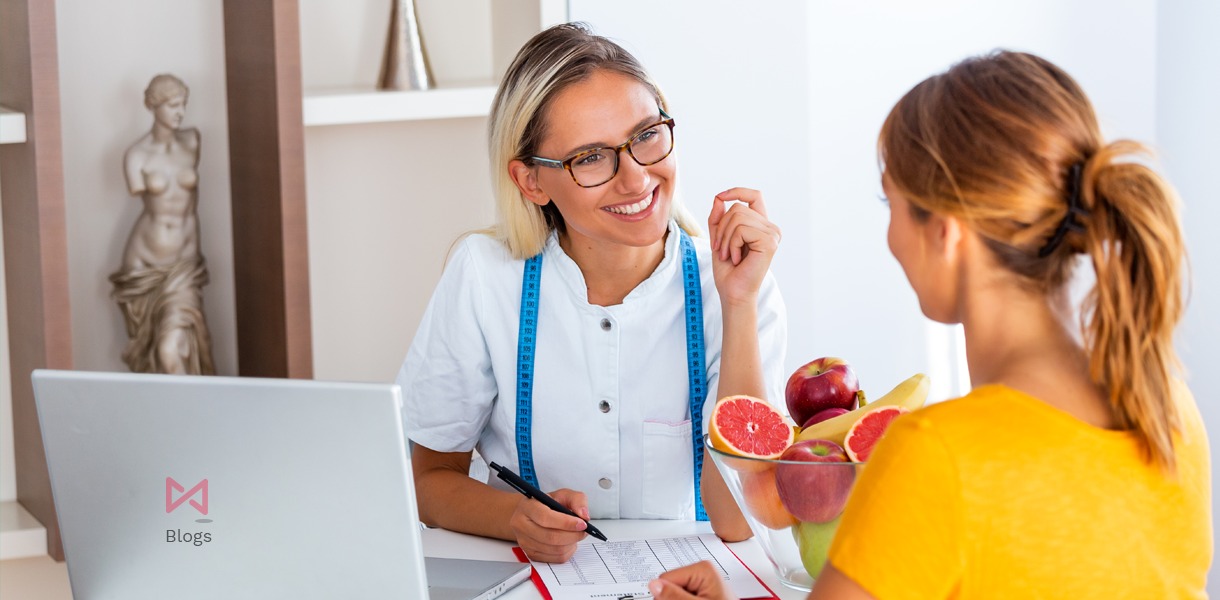 The greatest concern for a dietician is how to get more clients with their practice. Your practice can only get you, clients, when you have marketed your practice well enough and your potential clients have come to know about your existence. You may not get sufficient clients during your initial stages of practice. Here we are with a list of Marketing Strategies for dieticians that work and how you can add more clients to your list. You need to be consistent in your marketing approach and be patient.
1. Website:
A website is a top priority on the list of marketing strategies for dieticians. Because people search for information online before making contact. Hence make sure your website has detailed information about what you offer. Having contact inform integrated so that people can drop their queries.
2. SEO:
Make sure that your website is SEO optimized so that you can rank high on the SERP when someone searches. This would help the user to easily navigate through your website and know about your presence. Every new visitor to your website can be a potential client for your business. You can take the help of a digital marketing agency that can work on the SEO aspects.
3. Have your blog page:
Writing content for your targeted audience is the best way to build your credibility as an expert dietician. This should be again your priority on the list of Marketing Strategies for dieticians. It will also help in increasing the reach of your dietician website and business. When you start writing blogs, make sure that you completely focus on the exact keywords that are used in searches frequently. That makes your content SEO friendly and helps the user to find your business. Also, focus on such topics that appeal to your audience, helps to address their difficulties or queries, and that would drive you more clients. You can use Google, Quora, or Facebook groups to get content ideas that are trending in your niche.
4. Guest Posting:
Guest posting is an excellent way to increase your reach. When you start writing a blog for your website, it may be initially difficult to get that traffic to your blog page as you have just started writing content and a few of your followers may be aware of it. Use your best blog or articles for guest posting. This will help you to boost the growth of your blog and you will see new your follower base growing.
5. Instagram:
Instagram should be an integral part of the marketing strategies for dieticians. Being a dietician, you can make the best use of this platform where you can create a followers base by posting great content on your feed. You can give free health care tips, some easy diet recipes, the transformation journey of some of your valued clients, reviews, testimonials, easy workouts, etc. Use relevant hashtags while posting your content so that your posts can be at the top of your niche. Keep interacting with your followers and provide them with valuable tips and pieces of advice.
6. Facebook:
Using Facebook, you can create a group or community where you can keep your audiences updated on the trending healthcare tips. You can post questions or allow them to ask questions and can create an interactive session. You can also find and participate in forums/group at Facebook where your target audience have made their presence, and try to answer their queries. Also, you can take advantage of Facebook ads, and run ads as per your objective and budget. Facebook ads are included in the marketing strategies for dieticians because these ads are target based ads where you can target your audience based on gender, age, location, etc, and build your network.
7. Youtube:
Youtube is a platform where you can post video content. Video content is the most engaging form of content and it can be a very important platform for the dieticians as you can be more interactive with your audience, you can give a talk, address the questions of the audiences, workout videos, healthy and easy diet recipes, etc.
These marketing strategies for dieticians are a proven way where you can establish yourself as an expert dietician and grow your business. To know if these strategies work or not, set-up Google Analytics and you can keep a track of the number of visitors each day to your website.
Further, as your client base grows, make sure to follow-up with them and keep asking them about their progress. Keep motivating and encouraging them. This will be a great way to retain your existing clients.
Keep your approach holistic so that your clients will keep connecting with you.