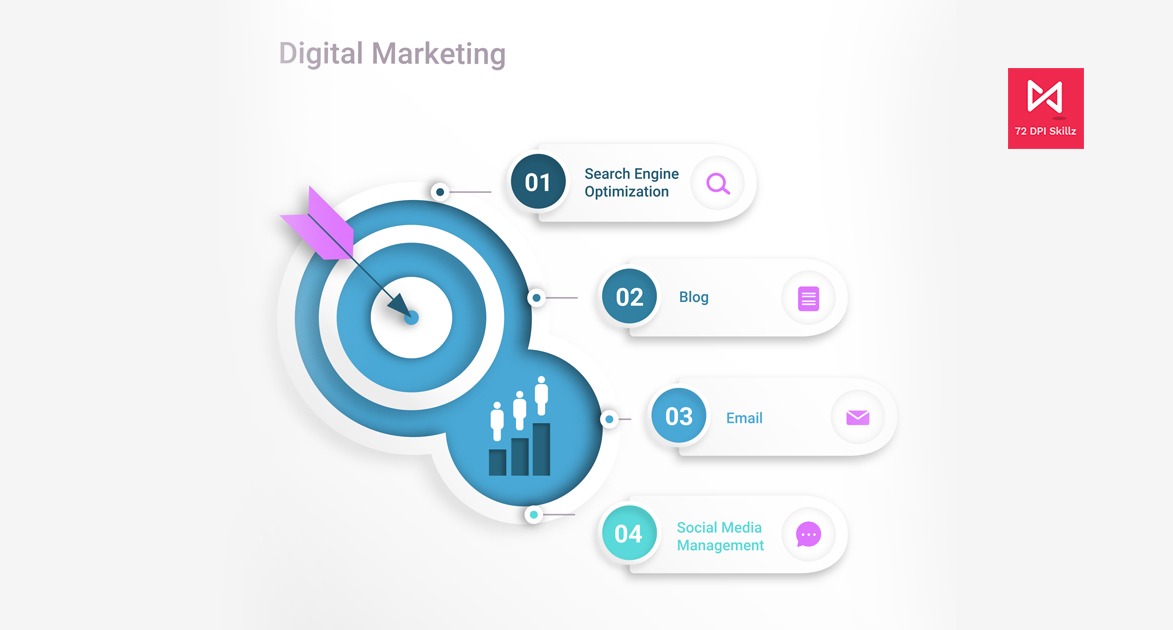 The global digital arena and ever-evolving virtual world has made it imperative for brands and business to leverage the power of technology and amplify their reach.
The only way to take your business to new heights is to use the right combination of digital marketing tactics and strategies. A professional digital marketing agency can help one to get acquainted with the latest up-gradation in the digital spectrum and comprehend its scope. 
A digital marketing agency is a specialized agency offering bespoke digital marketing services to its clients.
The agency has the expertise, eye for detail, and foresightedness that allows one to optimally reach their target audience cost-effectively. 72DPI Skillz is the best digital marketing agency in Bhubaneshwar.
The digital marketing agency has an experience of more than 7 years in the industry. Its lure for perfection along with its brand-specific approach gives it a classic edge over other contemporaries. 
Driven by a bunch of digital marketing experts and enthusiasts 72DPI Skillz strives to upgrade itself continuously with the latest upgrades in the digital marketing spectrum and offer measurable, objective-oriented digital marketing solutions that assure growth, visibility, and market presence. 
Working closely with the best digital marketing agency in Bhubaneshwar; 72DPI Skillz one can thrive on the digital opportunities and establish a strong connection with the audience. 
Let us delve into the ways how one can grow the business and make the best possible move by availing proficient digital marketing services:
Research-based Digital marketing strategy:
Digital marketing is a wide spectrum. It contains a lot of elements and analytical tools.
There is no set rule that defines how digital marketing should be used or planned to achieve the objectives. Every brand is different and so are their needs. It is essential to understand the needs of the clients and offer them solutions that are in tandem with their goals. 
A digital marketing agency works as a partner with its clients. They exert to understand their current positioning, brand image, objectives, equity, customer value, etc to provide the digital marketing plan that complements their business. 
72DPI Skillz offers an array of digital marketing services that are researched-backed and formed after a lot of brainstorming, analysis, and attention to detail. This escalates the chances that your digital marketing effort will be a success and shall reap considerable returns for your business. 
Target Oriented plan:
A digital marketing agency never vaguely makes a plan. Their plan is based on a realistic and rational approach. For instance, if you are planning to reach only a specific group of people located in a certain city then., a digital marketing expert will filter the campaign accordingly and use keywords that target the demographic segment. 
72DPI Skillz helps you to reach your audience optimally and reduce the chances of spillovers. Reaching your audience base with effective visual communication can drive more traffic to your website and increase conversion rate too.
Expand your business:
The reach of the digital world is humungous. It is as vast as the sea. If you want to reach newer markets and broaden your audience base then. Digital marketing can prove to be a boon for your brand/business.
Associating with 72DPI Skillz for digital marketing services in Bhubaneshwar can enable you to highlight your product/services, engage with customers, build a strong rapport with them and magnify your business reach. 
Differentiate your business:
The volatile market and fierce competition prevailing in the market have made it imperative for a business to be distinctive and creative. 72DPI SKillz being the finest digital marketing agency in Bhubaneshwar employs the right combination of marketing tactics, artistic approach, and creativity to enhance your brand image.
They strive to interact with the audience and create compelling digital marketing campaigns that revolve around your brand/business story and entices the target audience. The motive of the digital marketing strategy is to instigate the call of action.
Right fusion of media:
The success of a digital marketing agency depends upon how rightfully and analytically they fuse various media to communicate a cohesive message.
The choice of media is of crucial importance. With so many options available in the digital world right from Instagram. Twitter, Quora, Clubhouse, Facebook, Google Ads, and much more, it confusing to analyze and make an informed decision.
A digital marketing agency that can understand the power of each media and its strengths can prove to be an asset for a business and can work wonders for them. It can help to place the business on a pedestal and channelize its resources optimally.
SEO and SMM:
Search Engine Optimisation and Social Media Management are two of the strongest pillars of digital marketing.
Businesses must exert to utilize the best SEO And SMM plan to improve their search engine rankings and captivate their target audience. As a part of digital marketing services, 72DPI Skillz efficaciously plans an SEO plan that can boost the business/brand ranking on search engines.
Various analytical tools and SEO tools are used to find the target search query and develop an SEO campaign. 
Social Media management is the ned of the hour. The wide audience base and creative freedom make it advantageous to use Social Media to interact and hold the interest of the audience. 72DPI Skills is one of its kind of digital marketing agencies in Bhubaneshwar. It is renowned for its innovative and immersive social media campaigns. 
Wrapping up!
The power of digital marketing agencies is exemplary. It can act as a driving force and facilitate business expansion. Whether it is building brand recognition, developing a data-driven campaign, optimizing the website, or creating SEO-based content. A digital marketing agency with its holistic approach and discreet digital marketing services can recoup great returns for your business. 
72DPI Skillz employs the right fusion of business growth strategies, digital marketing services, and client-centric approaches to lead a brand towards success and prosperity. 
If you want to make it simple, effective, target-specific, and measurable then, collaborate with the best digital marketing agency in Bhubaneshwar